Profile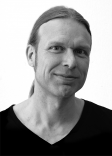 Creating visual experiences since 1999, Dawnland – Daniel Viberg – works with illustration, lettering, & fonts. Daniel is an illustrator and lettering artist from Sweden with a vivid interest in graphic storytelling, which won't go unnoticed in his productions. His inspiration comes from books, films, art, music and Nordic folklore as well as from all the members of his family.The recent years Daniel has evolved to further embrace the crafting of letters by hand, pens and paper.
Contact
For inquiries or just to say hi,
mail me – daniel@dawnland.com!